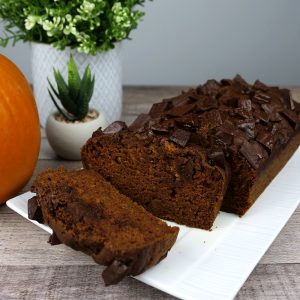 Chocolate Pumpkin Loaf | No Egg No Milk No Butter Cake.
This Egg-Free Dairy-Free CHOCOLATE PUMPKIN LOAF CAKE is easy to make. Pumpkin makes this loaf super moist and combined with a hint of cinnamon and nutmeg, it makes this cake a great dessert for fall. This cake is topped with chocolate chunks and loaded with chocolate flavor.
Ingredients
3/4

cup

(150 g) Superfine granulated sugar

3/4

cup

(180 ml) Water, room temperature

1

cup

(300 g) Pure Pumpkin Puree

1/4

tsp

(0.6 g) Nutmeg

1/4

tsp

(0.6 g) Ground Cinnamon

1/3

cup

(80 ml) Vegetable Oil

1 ¾

cup

(245 g) All-Purpose Flour

1 ½

tbsp

(10 g) Cocoa Powder

1 ½

tsp

(6 g) Baking Powder

1

tsp

(5 g) Baking Soda

1/4

tsp

(1.5 g) Salt

1/2

cup

(100 g) Dark Chocolate chunks
Instructions
Preheat oven to 350oF (180oC).

Grease a 8×4 inch (20 x10 cm) loaf pan and line with parchment paper.

In a large bowl, add sugar and water. Whisk until sugar dissolves completely.

Next add pumpkin puree, nutmeg and cinnamon. Mix well.

Then add vegetable oil and mix well.

Then sift in flour, cocoa powder, baking powder, baking soda and salt.

Mix until dry flour no longer visible. DO NOT OVER MIX (mix until dry and wet ingredients are just combined).

Pour batter to loaf pan and spread evenly.

Add chocolate chunks on top.

Bake in PREHEATED Oven, 350oF (180oC), rack middle position, 40-45 minutes

or until toothpick inserted in the center comes out clean.

Let cake cook down for 10 minutes in pan. Then,transfer cake to wire rack and let it cool down completely.
Video