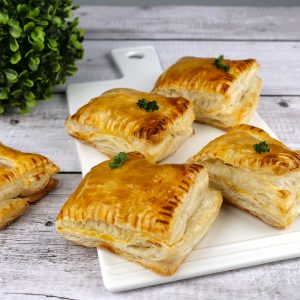 Tuna Pies Puff Pastry
These Easy Tuna Pies are made with few ingredients and are perfect for dinners and as appetizers. Flaky Puff Pastry outside and tuna, peas and some fresh herbs inside.
Makes about 12 pies
Ingredients
1

tbsp

(15 g) Unsalted Butter

1

tbsp

(15 ml) Vegetable Oil

1

small onion, chopped

1/2

cup

(90 g) Green Peas, canned

1

tbsp

(2 sprigs) Fresh Parsley

1

tbsp

(2 sprigs) Fresh Thyme

1/2

tsp

(3 g) Salt

1

tsp

(3 g) Paprika

Pepper, to taste

2

cans

(270 g) Solid Light Tuna (in water)

15

ounces x 2

(454g x 2) 2 Puff Pastry Dough, thawed
Instructions
Preheat oven to 400oF (200oC).

Set pan on medium heat, add butter, oil, onion and cook for about 1 minute.

Add green peas, parsley, thyme, paprika, salt and pepper. Stir to combine.

Add canned tuna and turn off heat. Stir to combine. Set aside to cool completely.

Place one puff pastry dough on floured work surface.

Roll out puff pastry into rectangle 6×18 inch (15×46 cm).

Cut out 6 rectangles 6×3 inch (15×7.5 cm).

Place about 1 1/2 tbsp of filling on top half of each rectangle puff pastry dough.

Fold and press with fork tines to seal.

Transfer pies to baking tray lined with parchment paper.

Brush pies with egg wash.

Repeat step 5 to 11 with second puff pastry dough.

Bake in preheated oven 400oF (200oC) for 20-25 minutes, or until golden brown.
Video