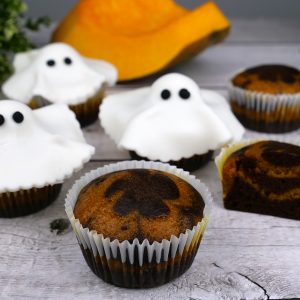 Super Moist Chocolate Pumpkin Cupcakes | Spooky Halloween Cupcakes | No Egg No Milk No Butter Cake.
These Egg-Free and Dairy-Free CHOCOLATE PUMPKIN CUPCAKES are super moist and easy to make. Loaded with pumpkin and chocolate flavors, these MARBLE CUPCAKES are perfect for FALL and HALLOWEEN. They can easily turn into Ghost Cupcakes with some fondants.
Makes 12 cupcakes.
Ingredients
1/2

cup

(100 g) Superfine (granulated) Sugar

1/2

cup

(120 ml) Water, room temperature

1/3

cup

(80 ml) Vegetable Oil

1 ½

cup

(210 g) All-Purpose Flour

1 ½

tsp

(6 g) Baking Powder

1/2

tsp

(2.5 g) Baking Soda

1/8

tsp

(pinch) Salt

1/2

cup

(150 g) Pumpkin Puree

1 ½

tbsp

(10 g) Cocoa Powder

1

tbsp

(15 ml) Water, room temperature
Decoration
1

Ready Rolled Fondant Sheet (450 g -16 oz)
Instructions
Preheat oven to 350oF (180oC).

To a bowl, add sugar and water. Whisk until sugar dissolves completely.

To same bowl, add oil. Mix well.

Sift in flour, baking powder, baking soda and salt.

Mix until dry flour is no longer visible. Do not overmix.

Transfer 1/3 of the batter to a second bowl.

To this second bowl add pumpkin puree. Mix well.

To the first bowl, add cocoa powder. Mix well. Add water (1 tbsp) if batter is too thick. Mix well.

Add about 1/2 tablespoon of chocolate batter to cupcake liner. Then, top with 1/2 tablespoon of pumpkin batter and then chocolate batter again. Alternate between pumpkin and chocolate batter until all batter is used.

Use a toothpick to lightly mix the pumpkin and chocolate batter together on the top of the cupcakes.

Bake in preheated oven 350oF (180oC), rack middle position, for 18-20 minutes, or until toothpick comes out clean.

Let cupcakes cool down in pan for about 10 minutes. Then, transfer cupcakes on wire rack to cool completely.

Cut out 4 inch. (10 cm) diameter circles from fondant.

Make small balls with fondant.

Place a small ball on top of cupcake, Cover ball with fondant circle.

Add two pieces of black fondant for the eyes.
Video