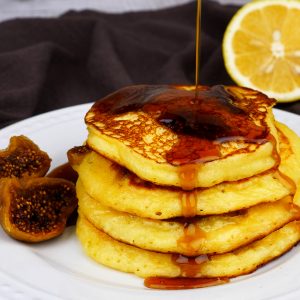 Lemon Ricotta Pancakes With Figs
This is an adapted version of Barefoot Contessa's Lemon Ricotta Pancakes With Figs. These pancakes are super soft and fluffy, loaded with figs and full of lemon flavor. They are one of the best pancakes I have ever tasted.
Makes 14 pancakes.
Original recipe: https://www.foodnetwork.com/recipes/ina-garten/lemon-ricotta-pancakes-with-figs-8653945
Ingredients
1 1/4

cups

(175 g) All-Purpose Flour

1/4

cup

(30 g) Corn Starch

1

tbsp

(14 g) Baking Powder

1 1 /2

tsp

(9 g) Salt

1

cup

(220 g) Ricotta Cheese

1

cup

(240 ml) Buttermilk

3

large eggs

1/4

cup

(50 g) Granulated Sugar

1

tbsp

(6 g) Lemon Zest

2

tbsp

(30 ml) Fresh lemon juice

1

tsp

(5 ml) Vanilla Extract

8

Dried Figs, soaked in water for 30 minutes

6

tbsp

(90 g) Unsalted butter

Maple syrup for serving.
Instructions
Soak 8 dried figs in water for about 30 minutes. Then cut into thin slices.

In a bowl, mix all-purpose flour, corn starch, baking powder, salt and set aside.

In another bowl, add ricotta cheese, buttermilk and eggs. Whisk until well combined. To the same bowl add sugar, lemon zest, lemon juice, and vanilla extract. Whisk until well combined.

Then, add the dry ingredients. Fold gently until just combined and no dry flour can be seen. Do not over-mix or pancakes will be tough.

Let mixture stand for 5 minutes.

In a tall glass, add butter. Microwave on max power (1200 W) for 30 seconds until butter has melted. Let melted butter stand until a clear liquid on top of milk solids is obtained. The clear liquid is clarified butter (this liquid will be used to grease pan for cooking the pancakes).

Preheat cast iron pan (10 inch / 25 cm) on medium high heat.

Pour about 2 tbsp of clarified butter (clear liquid) onto preheated hot pan.

Add batter to pan. Cook 3 pancakes at a time. Add figs on top. Cook for 2-3 minutes on one side. Then, flip pancakes when the bottom is golden brown and bubbles appear on the top.

Cook for a further 1-2 minutes on the other side.
Video