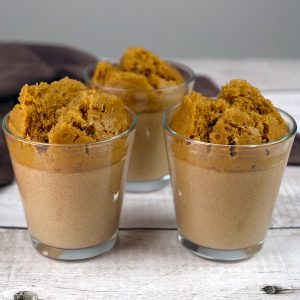 Steamed Coffee Cupcakes – Fa Gao 發粿 – Prosperity Cake – Huat Kueh
Fa Gao (Prosperity Cake) is a popular Traditional Chinese Snacks served during Chinese New Year Festivals. This is a coffee version of the Chinese Steamed Cake.
Eggless and dairy-free, these coffee cupcakes are soft and not overly sweet.
Ingredients
1

tbsp

(6 g) Instant Coffee (in 2 tbsp / 30 ml hot water)

3/4

cup

(150 g) Brown Sugar

1 ½

cups

(350 ml) Water, room temperature

2 ½

cups

(350 g) All-Purpose Flour

1

tbsp

(14 g) Baking Powder (+2 tbsp / 30 ml water)
Instructions
To a heat proof glass or mug, add instant coffee and hot water. Stir until coffee is dissolved, Set aside.

To a bowl, add brown sugar, water and reserved coffee. Mix until sugar dissolves completely.

To same bowl, sift in flour.

Mix until dry flour no longer visible.

Add baking soda.

Then add 2 tbsp of water on the baking soda.

or Mix baking soda with 2 tbsp of water and add to batter,

Mix until well combined.

Pour batter into heat resistant glass or any heat resistant containers.

Add water to steamer. Make sure there is enough water in the steamer since you should not open the steamer during steaming.

Place steamer basket inside steamer, cover and bring water to a boil.

Place cupcakes inside steamer.

Cover and steam on medium high heat for 18-20 minutes.

DO NOT OPEN STEAMER during steaming.
Video