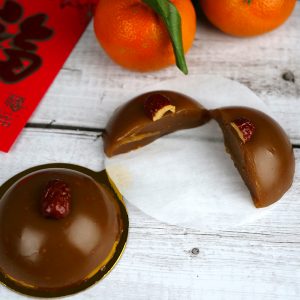 Chinese New Year Cake / 年糕 (Niángāo)
These Mini Chinese New Year Cake (Niángāo) are perfect to share with friends and family.Traditional Chinese New Year Sweet Rice Cake has to be steamed for more than 12 hours. For this Easy and Quick recipe, steaming takes only 1 hour. Mandarin Zest adds a delicate citrus flavor to this sweet rice cake.
Ingredients
1 ½

cup

(300 g) brown sugar

2

cup

(475 ml) water, room temperature

3

cups

(400 g) Glutinous Rice Flour

2

tbsp

(12 g) Mandarin / Orange Zest

Red Dates (jujubes) for decorations.
Instructions
Add sugar to a pan.

Place pan over LOW HEAT and stir constantly until sugar has melted.

Carefully, add water to pan. Please be careful as splashing may cause burns.

Turn off heat and set aside to let it cool completely,

To a bowl, add glutinous rice flour and mandarin zest. Stir until combined.

Then add cooled reserved sugar syrup, stirring constantly. Mix until well combined,

Add water to steamer.

Place mold in steamer, cover mold with aluminum foil to prevent water from dripping into the cake during steaming.

Cover and steam over Medium High Heat for 1 hour.

Check the level of water in steamer every 15 minutes.

Remove mold from steamer and refrigerate for 24 hours before removing cake from mold.
Video