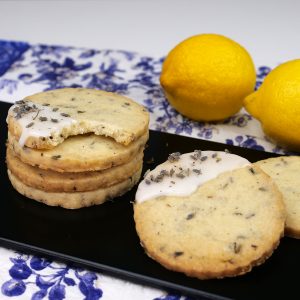 Lemon Lavender Shortbread Cookies
These rich and buttery shortbread cookies are perfect for afternoon tea.The Simple Lemon Glaze pairs really well with the Lavender Flavor.
Ingredients
1

tbsp

(12 g) Granulated sugar

1

tbsp

(2 g) Culinary Lavender

1

cup

(227 g) Unsalted butter, room temperature

1/2

cup

(60 g) Powdered sugar / Icing sugar

2

cups

(280 g) All-Purpose Flour
Lemon Glaze
1

cup

(125 g) Powdered sugar / Icing

2

tbsp

(30 ml) lemon juice
Instructions
Preheat oven to 350oF (180oC).

Place lavender and sugar in bowl or mortar, and crush lightly. Set aside.

In another bowl, cream butter and sugar, with spatula, until mixture is pale yellow.

Add, flour and lavender sugar mix.

Mix until just combined.

Place dough on a sheet of parchment paper.

Cover with a second sheet of parchment paper. Roll out dough till it is 1/4 inch (6 cm) thick.

Place dough on a baking tray and chill for 30 minutes.

In the meantime, make the lemon glaze.

To a bowl, sift in sugar and then add lemon juice. Mix until combined. Set aside.

After 30 minutes, dip a cookie cutter 3 inch (7.5 cm) diameter into flour and cut out circles from the chilled dough. Place circles on baking tray lined with parchment paper.

Bake in PREHEATED oven, rack middle position, at 350oF (180oC) for 15 minutes.

Transfer to cooling rack and let cookies cool down completely.

Coat cookies with lemon glaze and sprinkle with some lavender.
Video